Junior Lauren Jiggetts-Donovan's day started earlier than Lindsey's, in Allston with an athletics meeting to discuss the coming volleyball season. Partway through, the session was ended abruptly.
"They said, 'You need to go back to your dorms.' I don't specifically remember them telling us why," Jiggetts-Donovan said. "I rushed back over the Charles River, and it was an absolutely gorgeous day in Cambridge."
She walked into Kirkland's dining hall and found students gathered around a TV.
"I'd never heard of Osama bin Laden," she said. "There was never any clear and present threat in the United States at that time. I think a lot of us felt [that day] that there are massive things going on in the world, and we live in this little bubble."
Bits of news and video fell into a timeline as the hours passed: At 8:46 a.m. the first plane crashed into the north tower of the World Trade Center; at 9:03, a second plane crashed into the south tower; at 9:37 a.m. a plane crashed into the Pentagon; at 9:42, U.S. airspace was closed; at 9:59 a.m., the south tower collapsed; at 10:03, a fourth plane — perhaps headed to the White House or the Capitol — crashed into a field in Pennsylvania; at 10:28 a.m., the north tower collapsed. Rumors swirled of more attacks and hijackings — or their possibility.
To many, including Ashwell, action in the skies seemed to offer ominous clues to what might happen next.
"When we went to the Yard, I remember suddenly these jets came overhead, and people reacted with fear because we knew there weren't supposed to be planes in the sky," said Ashwell, who would go on to attend Harvard Law School and today serves as Virginia's chief deputy attorney general. "Then we realized they were American military."
That morning Lawrence Summers, who had just taken over as Harvard president in July, had several immediate concerns: the continuity of the institution, the health and safety of its people — particularly the young people who made up the largest part of Harvard's community — and the welfare of his family: three children under 11, at home in Washington, D.C., while their mother was abroad on a work trip.
Summers recalls being impressed and proud of the University's response, with community prayer at the Divinity School, Business School phone trees to check on affiliates in the Financial District, and a convening of Kennedy School experts to help make sense of the tragedy. It was also registration day at the College, and registration proceeded, though several students commented that the need to drop off class paperwork was an almost awkward note of normalcy, feeling strange given the day's events.
Summers said those around him, as elsewhere, reacted initially with horror, but also with the recognition that there was work to be done. In the hours after the attack, Harvard Medical School and its affiliated hospitals were prepped for the massive influx of injured that was anticipated in the aftermath of the towers' collapse. It was thought that New York hospitals would be rapidly overwhelmed and that some patients — perhaps many — would be airlifted to Boston. As the hours passed, however, it became apparent that thousands were dead or missing, and that there would be no great need for additional help with emergency care for survivors.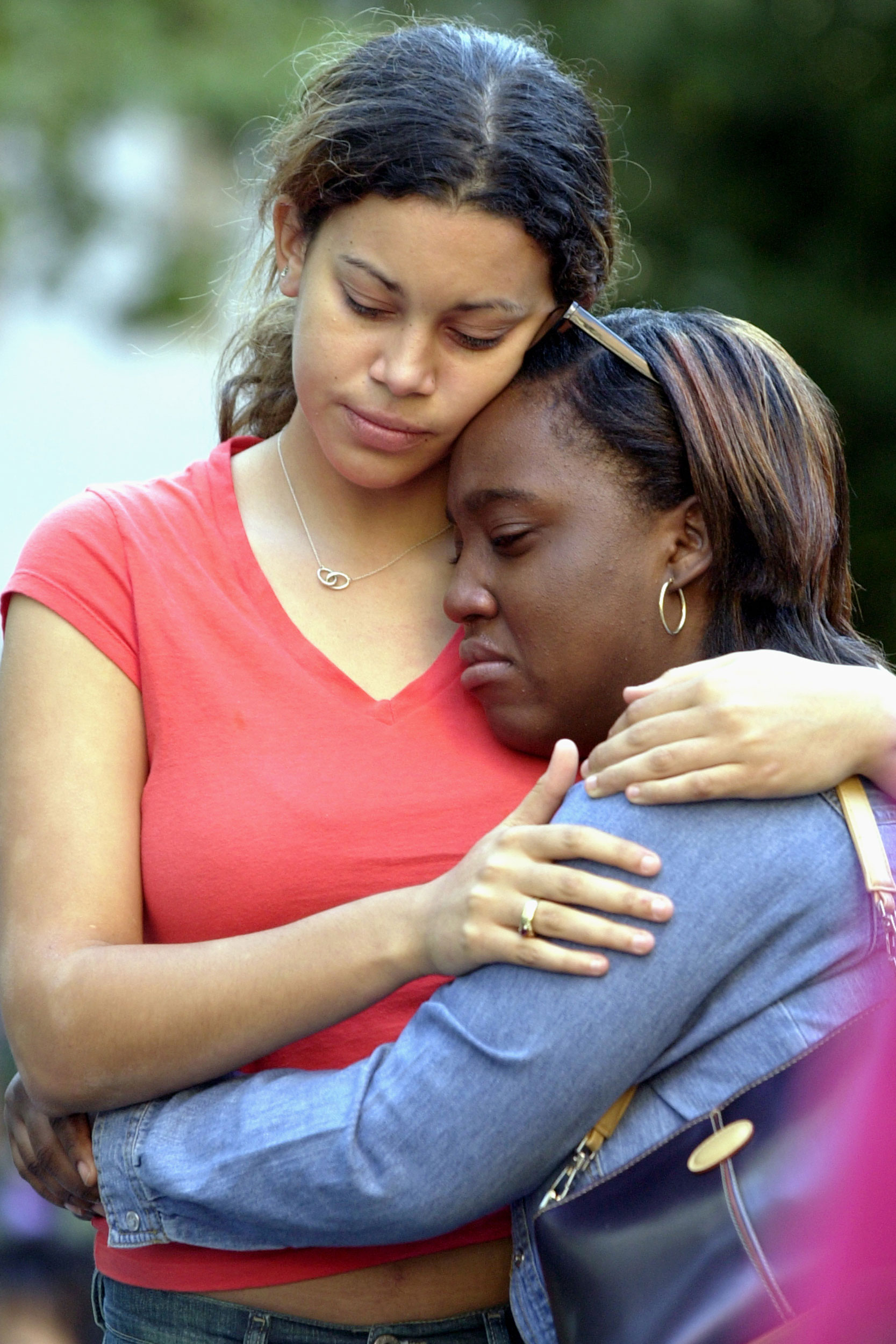 There was concern voiced that Harvard might be attacked, a worry Summers didn't share. Though many on campus had never heard of al-Qaida, Summers had. As Treasury secretary under former President Clinton, he was in the line of presidential succession and had been briefed on the nature of such threats. What Summers did see as imperative, however, was providing a steadying hand to the campus community.
"It reminded me of the fact that I was a very visible adult in a community of young people," Summers said. "It reinforced what was already my instinct, to make myself as open to students as I could."
Summers presided over a vigil in Harvard's Tercentenary Theatre that evening and — after a weekend trip to Washington to check on his children — spoke again at Morning Prayers in Memorial Church 10 days later. To Summers, the uncertainty and fear pervading the moment required reassurance that the University's main mission was not only still relevant, but also more important than ever.
"I tried to express it as well as I could: The best thing to do was not to wallow in this. The best thing to do was to decide what was important and what you could do to make the world better and to do that with renewed energy," Summers said. "Terror is the opposite of collaboration, and collaboration is what I thought Harvard was all about."
In the days after 9/11, normalcy was hard to find. Senior Dan Kistler, a lineman on the Harvard football team, remembers sitting in the locker room in the days after, trying to prepare for the season opener against Holy Cross coming on that Saturday. Instead of practicing, he said, he felt he should be down in New York, helping the search for survivors.
"I remember having a lot of trouble in the locker room, just really feeling like we should go. We should go to New York and help lift concrete off," said Kistler, who today is principal at Betio Capital in Boston. Coaches and league officials apparently agreed that the game was too soon and canceled it.
Kistler and his teammates got back on the field against Brown a week later, and, as the weeks passed, found a sense of normalcy there. The Holy Cross game was never made up, but Harvard would go on to post an undefeated 9-0 season, winning the Ivy League.
Kistler was among those who pursued a path anticipated before the attacks — he'd decided that summer to join the Marines — but was nonetheless affected by the changed world. He switched his desired role from that of an adjutant, largely administrative, to infantry, where he would become a captain and serve two tours in Iraq. Jiggetts-Donovan likewise was able to follow her pre-9/11 passion, journalism. Today she is an anchor at WGN-TV in Chicago, but she mourns a cousin who joined the military after 9/11 and was killed in Afghanistan.
And some, like Smalling and Graff, describe profound, personal shifts that happened that day and whose impacts continue to reverberate in their lives.
Sept. 11 "just altered the course of my life," said Smalling, today the father of 4-year-old twin daughters and writing a memoir of his time as a Ranger. "Looking back, I'm very glad with the person I became. I think being an Army Ranger is in my DNA. But it just seemed like, almost random."
Share your own Sept. 11 memories and reflections with editor Ryan Mulcahy: ryan_mulcahy@harvard.edu. If we hear from enough readers, we'll publish the responses.