Earlier on this year, I realized that my New Zealand summer was quickly slipping away like sand through my fingers. The days were disappearing, getting shorter and before too long I'd be back on another flight to Ireland.
I'd been on a few adventures – paragliding trips to Wanaka, Christmas in the Marlborough Sounds, hikes around Queenstown – but I'd not yet done an overnight. I got out my New Zealand topomap, and started looking for an achievable overnight adventure that I could do with Maura.
We were considering doing something close to home, like the overnight up to Earnslaw Burn. However as it's been years since I did any adventuring in Fiordland (outside of flying to Milford Sound), I set my eyes in that direction.
About four years ago, I did the incredible day hike up to Gertrude Saddle. At that time, we overnighted in the Homer Hut, and walked up to Gertrude Saddle the next day. I considered that option, but to make the most out of the weekend, I decided we'd first do the hike to Lake Marian, set up camp and overnight, and then hike out and up to Gertrude Saddle the next day.
Fiordland is one of the most dramatic areas of New Zealand. Sheer and towering rock faces, glacial valleys with hanging glaciers high above, crystal clear alpine lakes and rushing glacial fed rivers – this is the New Zealand that you dream about, the landscapes that end up in magazines. It's a magical place to drive through on the way to Milford Sound, and an even better place to get amongst it in the backcountry.
Lake Marian
On the way up Gertrude Saddle
Adventures in Fiordland: Lake Marian
I put together a quick video to show you a bit more of what Lake Marian and Fiordland has to offer. Flip the settings to 1080HD and enjoy!
Getting There and Need to Know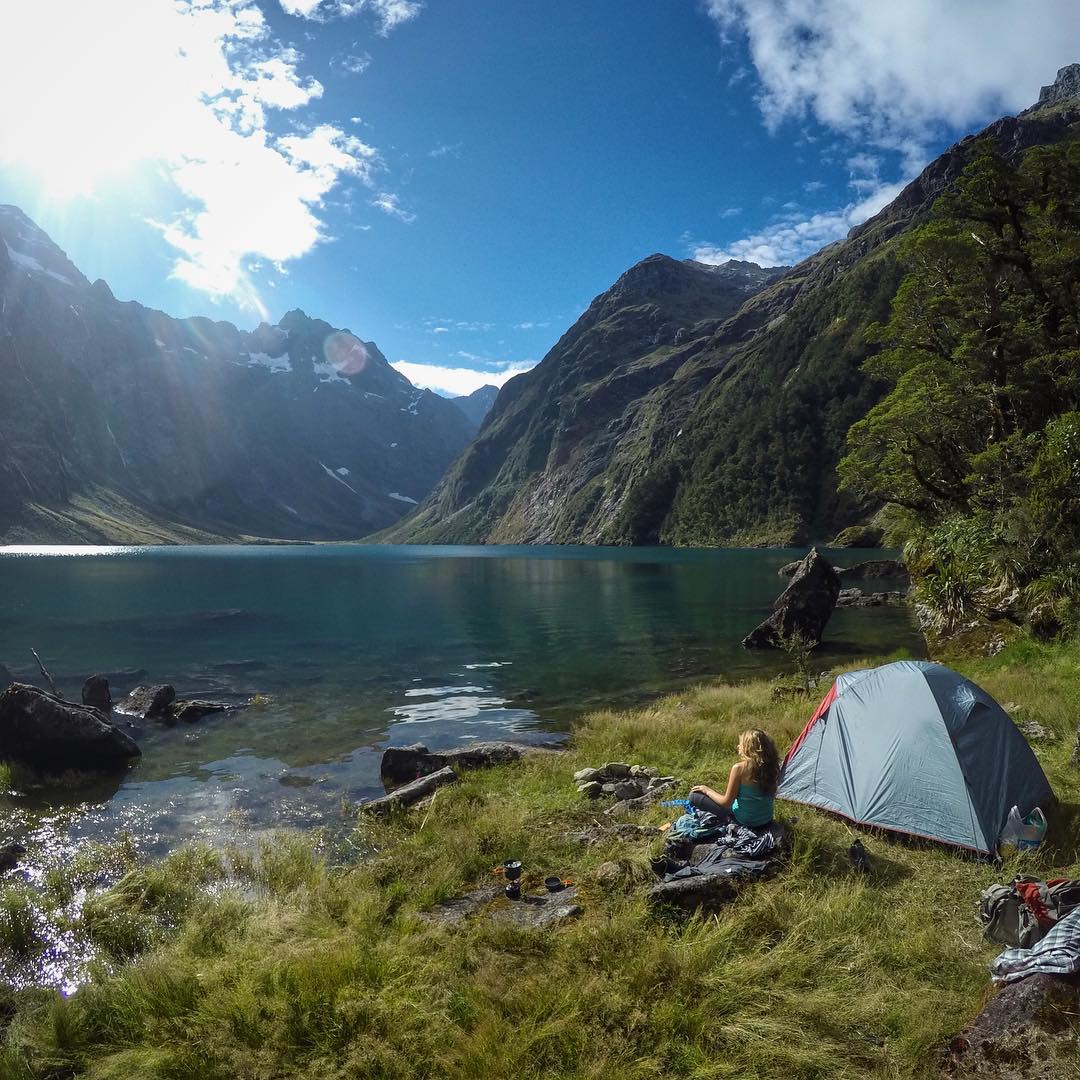 The hike to Lake Marian departs from the Hollyford Road, on the Milford Sound side of the divide. It's only about 3-4 hours return with a day pack, steadily climbing for 2 hours or so from the Hollyford Road past a series of waterfalls and through native forest. With more weight, the hike up will clearly take a bit longer.
We set up camp on the shores of the lake, but it's worth noting that there are no formal camping facilities. There is a drop toilet right before you arrive at the lake, but to find flat ground without rocks, we had to scramble for 500 metres or so along the shores of Lake Marian. If you do the same, please leave no trace – bring everything out with you, and if you have to do your business, do it responsibly!